How On-site storage works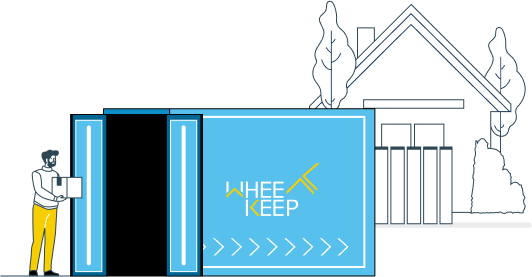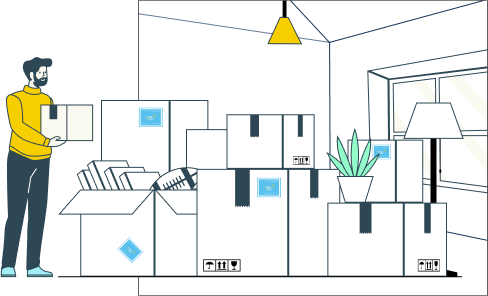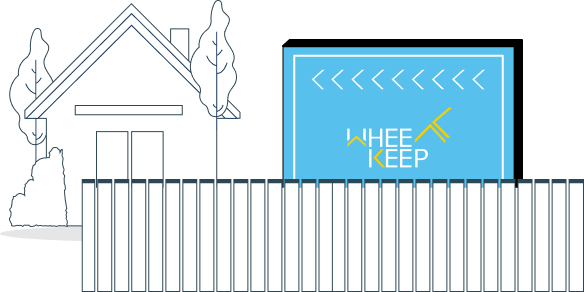 1
We Deliver To You
Our portable WheeKeeps offer convenient, secure, affordable storage solutions for domestic or commercial storage.
2
You Pack, And Lock
Take your time and fill up your WheeKeep with all your belongings and use your own lock to secure it.
3
WheeKeep Remains onsite
Your WheeKeep remains on-site, and when you are done storing we will collect.
What's your Next move?
Feel confident knowing your goods are securely stored whether you're
Renovations
Event Management
Remodelling
Extra Space
Construction Jobs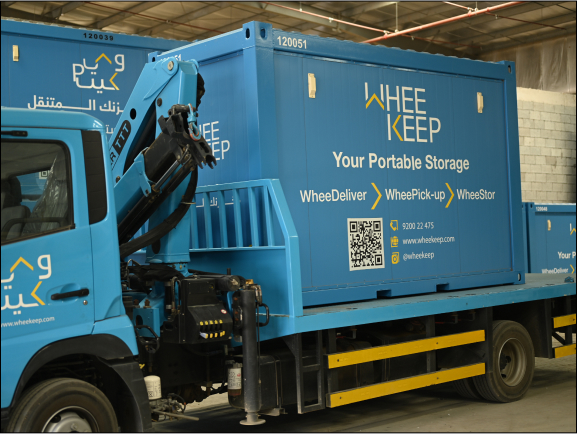 Convenient
We make storing your items easy. We deliver and store your WheeKeep units at our secure facility. We make it easy for you to access and retrieve your storage when you need it by visiting our facility or by delivering your WheeKeep units to you.
Weatherproof
Your belongings are kept in excellent condition in our clean, weatherproof storage units.
Secure
Your WheeKeep units are locked using your own locks (Only YOU hold the keys). Stored in a secure facility, monitored by CCTV cameras 24/7, on-site guards, and a state-of-the-art fire alarm system.
Affordable
Our competing pricing plans ensure that our storage solutions are truly affordable.
How Portable storage works
What type of lock should I use?
When you obtain the service of portable storage a new padlock is provided to lock the unit . Moreover, additional lock slot is provided incase you wanted to add additional lock for further safety assurance.
Can I put a car in a WheeKeep WheeKeep?
No, cars, motorized vehicles and lawnmowers are not allowed to be transported in storage units. but you can store motorbikes with certen criteria
What can't I load in a WheeKeep?
Hazardous Materials such as toxic chemicals, gas, liquids, substance, material or waste, lawn mowers, motorized vehicles and illegal items
Can I access my WheeKeep WheeKeep?
You may access your WheeKeep Sotrage unit as often as needed with no additional charges in our warehousing facility. A charge of 199 will be applied per round trip incase of delivery to whole unit to you.Before accessing your WheeKeep, you'll need to schedule the visit with ample notice (24h for warehouse visit, 48 hours for storage unit delivery). WheeKeep access can be scheduled through calling our Service team.
What is considered Hazardous Materials?
"Hazardous Materials" shall include but not be limited to any hazardous or toxic chemical, gas, liquid, substance, material or waste that is or becomes regulated under any applicable local, state or federal law or regulation.
What if I can't open my WheeKeep door?
If you're having trouble opening your WheeKeep door, items may have shifted during transit. You can reach us on via customer service to assist you further
Is there a weight limit?
"The maximum weight limit for our WheeKeeps are:
8' WheeKeep = 2,300 Kg 12' WheeKeep = 2,100 Kg. If you're concerned that you may be approaching the maximum weight, pick out your heaviest items and look for comparable items online. Most retail websites will list the weight of their items. "
What does the inside of a WheeKeep look like?
Although the container's interior may depend on the model and size you receive, our containers are open spaces without obstructions or shelving.
How do I make a claim under this coverage?
To report damages, you can call customer service to proceed with claiming process accordingly
Are there shelves included in the WheeKeep?
There are no shelves in the storage unit, but it can be requested ( since available as fit in upon request )
Is the WheeKeep and my belongings safe while it is at my location?
While the container is at your location, please make sure to keep the roll up door locked when you are not accessing the container.
Does WheeKeep offer coverage for damage to the WheeKeep?
Yes, WheeKeeps offers insurance options.You are responsible for any damage to the container while the container is in your care and possession. This option gives you the opportunity to protect yourself against financial loss in the event the WheeKeeps itself suffers any damage.
What is not covered by the current insurrance option?
Damage resulting from improper packing, normal shifting or intentional acts by the customer to the contents or the WheeKeep is not protected. Wheekeep will also not assume liability for burglary and/or theft of personal property for on-site WheeKeeps.
What does WheeKeep current insurance cover?
The WheeKeep isnurance cover losses or damages to the container due to lightning, windstorm, hail, fire, smoke explosion, vandalism, riot, malicious mischief, falling objects, or auto accidents that may require a police report.
I would like to cancel or make changes to the coverage on my WheeKeep Storage unit
In order to cancel, add, or decrease the amount of insurance coverage, please call our cutomer service. Coverage can only be added or increased prior to the initial delivery of the empty container to your location. If you have coverage and wish to cancel, please keep in mind that once the coverage is cancelled, it can't be added back to the account.
How is a WheeKeep unit moved?
Wheekeep delivery truck is equipped with a hydraulic lift system , designed to reduce shifting of your contents. It securely transports the WheeKeeps container to and from your location.
Are there any restrictions for using WheeKeep?
WheeKeeps units are permitted at most locations. If otherwise you will be informed at the time you place your order.
Are WheeKeep un its water-proof?
WheeKeeps are weather-resistant. The container is designed to protect your items against typical weather conditions such as falling rain.
Are there eyelets or Tie Downs in the WheeKeep?
WheeKeeps have e-track slots and the customer can buy straps from WheeKeep online shop while ordering ( from merchadise list ).
Are WheeKeep for sale?
Unfortunately, we do not sell WheeKeeps. When customers are looking for a flexible storage option, though, most people find us to be a great solution for their needs.
How many WheeKeeps should I order?
WheeKeeps are designed to accommodate a typical household. Larger households will require multiple containers. In general, each 8' WheeKeep container (1.5 x 2.4 x 2.4 meters) may accommodate 1 room, each 12' WheeKeep container (1.5 x 3.6 x 2.4 meters) may accommodate 2-3 rooms. Moreover, space calculator option in website can define estiamted number of WheeKeeps required.
What is the wind resistance of a WheeKeep?
WheeKeeps have been determined to withstand wind velocities of up to 110 mph winds when fully loaded, depending on weather conditions and container placement.
Do WheeKeeps have reflectors on them?
Our WheeKeeps does not have reflective tape on but it can be requested upon ordering.
How many M3 can accommodate 12 Ft
12′ WheeKeep is 13 meter cube
How many M3 can accommodate 8 Ft
8′ WheeKeep is 8.64 meter cube
What is length X height X width of 12 FT
12′ WheeKeep is 1.5 width x 3.6 length x 2.4 height
What is length X height X width of 8 FT
8′ WheeKeep is 1.5 width x 2.4 length x 2.4 height
What is temperature inside the WheeKeep's
The highest tempreture recorded inside the WheeKeep is 32 degrees celcios
Can WheeKeeps be used for events
Yes, you can store items in various WheeKeeps ( that have unique number) and schedule delivery of particular WheeKeep to event location.
Do you have cold storage / temperature controlled?
Not at the moment but it is under development and should be updated on our webstite.
What are the locking method that can be used
We offer two types of locking mechanism which are Pad locks and high tech locks.
What are the WheeKeep made of ? Steel / Wood?
WheeKeeps are made of a steel frame with specially designed, aluminum skin sandwitch panels.
I want my WheeKeep in a parking lot, what are the rules for that?
Yes, your WheeKeep can easily fit into one parking space, but our driver will need some extra room to deliver and pick it up.
Does WheeKeep service my area?
Currenlty we are operating in Jeddah,Saudi arabia, in the near future we will cover all saudi arabia.
How much clearance do I need to place a WheeKeep?
Delivering Truck needs some extra maneuvering space, so clear a path that's a little longer than two parking spots. Please ensure there are no low-hanging wires, branches, or other obstructions, such as sprinkler heads, in the path. If there's anything in the way, call Customer service before your delivery date.
How can I order a WheeKeep?
You can order your WheeKeeps via one of our communication channels which are website ( Wheekeep.com), customer service (920022475). If you need assistance with ordering, our customer service team is available 24/7.
I'm done loading my WheeKeep, what's next?
When you're ready to move your filled WheeKeeps to the local Storage Center, contact our customer Service team and they will schedule for WheeKeep to be returned to the Storage Center.
Do I have to be there when you deliver my WheeKeep(s)?
No, you don't have to be present for your WheeKeep delivery. The driver will use your delivery instructions to place your WheeKeeps and will also contact you prior to arriving. We recommend being available if there are obstructions or if you foresee the delivery being difficult.
What times do you deliver the WheeKeeps?
Our deliveries usually begin at 8:30 am local time and will continue until all deliveries scheduled for that day are completed. You do not have to be present in order for us to deliver the WheeKeep for you. You may also check your derlivery update once you log into your account.
What if I don't know my zip code?
Our Sales Associates can provide an estimated quote but the complete address details are needed to finalize your order. The destination ZIP code should be provided as soon as possible, so we can ensure the area is within our network.
How can I add instructions for delivery?
In order to add to your placement instructions, please chat with an sales associate or contact our Customer service.
How do I get ready for my Final Pick-Up?
The night before your pick-up, you will received a confirmation call from our sales team check any outstanding balance & will arrange the delivery time/ site visit to collect your items accordingly.
When will I find out my ETA?
ETA will be coordinated between you and sales team who will plan your delivery with operations.
How far in advance do I need to schedule my delivery or pick-up?
Please note service dates are subject to availability. We recommend scheduling all phases of your experience (deliveries, pick-ups, and transit if you're moving long-distance) as soon as possible, as dates tend to sell out quickly.
Will the WheeKeep delivery driver call me before they arrive?
Yes, wheekep driver will call prior to arriving to confirm your placement instructions. Be sure to answer your phone when you receive the call because they could have urgent questions regarding your WheeKeep delivery.
Can I fit multiple WheeKeeps in my driveway?
Yes, if your driveway can fit two vehicles side-by-side or end-to-end, it can likely accommodate two containers.
I need more than one WheeKeep but there is not enough room in front of my home/office. Can you stagger the delivery times of additional WheeKeeps?
Yes. WheeKeeps schedule flexible delivery and pick-up days for convenient loading and unloading.WheeKeeps can be delivered and picked-up based upon the day of your moving requirement.
Will the WheeKeep do any damage to my property?
We are able to successfully place WheeKeeps in most locations without resulting in damage. Please note however, that if you elect for a non-paved surface placement, there is always the possibility of some yard damage, especially if the ground is wet, or the soil is loose. In all cases, we take the utmost care to deliver your WheeKeep in a fashion that minimizes the possibility of any damage.
How long can I keep my WheeKeep at my location?
Unless there is a specific regulation that defines the amount of time a WheeKeep may be placed at your location, you may keep it for as long as you need.
What is considered a non-paved surface?
Any of the following surfaces are considered non-paved where a fee may be applicable: Gravel, dirt, grass, sand, brick, stones, shells.
How long will it take for my WheeKeep to be delivered to my new location?
Delivery time depends on a variety of factors, which include availability of delivery vehicles and the distance to the delivery location.
How fast can I get a Wheekeep WheeKeep?
Our WheeKeeps are available on a first come, first serve basis. Depending on availability you can often get a WheeKeep relatively soon.
How steep can my driveway be?
If you're wondering if your driveway's incline is too steep for WheeKeep delivery, here's a quick way to find out: When your car is parked on the incline with the front facing uphill, is a car door able to stay open? If not, give us a call.
How do I find out about my local regulations?
Wheekeep will inform you of any regulation that we are aware of during the booking process. Many customers call their local community for information about any restrictions that might exist just to be on the safe side.
Will a WheeKeep delivery damage my driveway?
Wheekeep Trucks uses a patented hydraulic lift system, designed to position the container safely on your driveway. For new driveways check with your builder/ developer before scheduling placement.
What is the correct street address format?
Please do not use abbreviations when entering your street address. This should help minimize any error message about street address formatting that you may receive. Also as a reminder, please make sure to put the city, state and zip code in the designated boxes.
Where can I put a WheeKeep?
Our containers fit best on a flat, paved surface, but if that's not an option, call our Customer Care Team before your delivery date, at 920022475 to discuss possible alternatives.
How many WheeKeep can provide per day?
Our truck is capable of carring one 12′ or three 8′ per trip, but number of delivered WheeKeep will depend on customer location.
If I am an e-commerce can you distribute?
No, we do not offer order fulfilment options for the meantime, maybe in the future.
Does wheekeep sell moving supplies?
Yes, we sell varoius boxe sizes, Wrapping Material, Tape and other helpful items to make moving easier.
Do wheekeep offer Labor to load my WheeKeep?
Wheekeep use local and experienced personal, and ensure providing excellency experience in loading WheeKeeps.
Why should I use the referred labor providers?
Using professional labor can help maximize WheeKeep space and provide expertise in packing and loading your belongings while allowing someone else to do the heavy lifting. By understanding your needs and special circumstances, the provider can make sure you receive the best combination of service and cost.
How do I pack my Wheekeep WheeKeep?
We recommend wrapping and boxing all items. For additional protection, tie down your items to prevent shifting during transit. Additional tips are located in all WheeKeeps inner door side.
Does WheeKeep offer hand trucks or dollies?
Hand trucks and dollies are available. If interested, contact our Customer Service team and an Associate will ensure providing it when delivering WheeKeeps.
Do my items need to be packed in a box?
We recommend that all items are wrapped, padded or placed in a box. Wrapping, padding and boxing your items will make it easier to load and will provide an extra layer of protection during transit and storage.
If I can't fill an entire WheeKeep, what do I do?
Wheekeep WheeKeeps are designed to allow for partial household loads. There are E-track throughout the WheeKeep that permit securing the load.
How does WheeKeep prevent my contents from being damaged during the move?
Our professional drivers are experts at transporting our WheeKeeps. The use of Hydrolic Crane minimizes the possibility of shifting or damage.
How do you determine what normal shifting/improper packing is?
In the event a claim has to be filed, all causes of damage are determined via our expert team. In the absence of a specific event that would have caused the damage, and when there has been no mishandling of or damage to the WheeKeep this determination can be made.
Do you have packing services?
Yes we do have a professional team that is capable of packing all your goods for long term storage via special made wrapping material ( thicker than standared ) to insure maximum protection.
Can I store bike ? Do you have safe mode of bike while moving?
Yes, but it will have to comply with various regulations. In the event of storing a Motorbike you cant contact Customer service for further assistance.
How is WheeKeep different from other moving and storage options?
Wheekeep designed its market strategy to be a one stop shop for various storage solutions that are compitable for both domestic and commercial entities alongside tons of value added services such as manpower, assembly/disassembly, packing, storage on WheeKeeps in addition to various warehousing options such as ambient, frozen and dry. furthe more it serve open area renting in addtion to palletized storing in addition to on-site storage dry, ambient and frozen solutions.
What Countries does WheeKeep service?
Currently we operate in jeddah, but in a short period of time we will operating across the whole kingdom of saudi arabia and GCC.
I don't know yet where I'm moving. How can WheeKeep help me?
Wheekeep provides services in major cities Since many customers aren't sure of their final destination, so offer storage at one of our secure storage centers. Your container can be kept at one of our storage centers until you're ready and know your final destination.
I'm remodeling – is WheeKeep a good fit?
Great! WheeKeeps sounds like a perfect option for you! Wheekeep WheeKeeps can be delivered to your home and can be loaded at your leisure. The WheeKeep(s) can remain onsite or be stored in a local Wheekeep storage center.
How do I write a review for WheeKeep?
We appreciate your feedback and we're always working to improve the overall customer experience. Your feedback can be shared via a customer experience survey which is emailed/Whatsapped after phone interactions and/or after your WheeKeep has been returned to Wheekeep.
What are your Sales & Service Center Hours of Operation?
The hours of operation are: Saturday to Thuresday from 8:30 AM to 11:00 PM
Are Storage Centers climate controlled?
With wheekeep the storage comes right to you. But rest assured, should you choose to keep your things at one of our Storage Centers, they'll receive the best and most secure treatment available. Wheekeep Storage Centers are clean, safe and dry and many are climate controlled.
Can I leave boxes or trash in the WheeKeep when I'm finished?
All belongings and debris must be removed from the WheeKeeps before your final pickup. Wheekeep may assess a cleaning fee if items are left in the Container after the final pickup.
What are WheeKeep Storage Center hours?
In most locations, Wheekeep Storage Center hours are between 8 am to 3 pm, 6 days per week. All locations are closed on Friday
How safe will my belongings be?
Only you have the key to your WheeKeep(s) . Wheekeep Storage Centers feature sophisticated security systems. Wheekeep delivery trucks are equipped with a patented lift system that minimizes the shift of contents while in transit.
Specialized needs of WheeKeep sizes?
We do offer special requirement ( needs ) of customized units to be specially designed as per your need that feature various applications such as portable office,  freazer, utility unit and much more.
Can I visit your facility?
Yes for sure, you can simply contact our customer service team to schedule and visit our facility.
Can I have APP module?
We are currently in the development phase of our mobile APP and will announce it release as soon it matches and exceeds customer expectation to cover realtime tracking, gio-fencing and much more.
How can I access my WheeKeep account online?
On the Homepage of Wheekeep.com click on the "login" button at the top of the page to log into your account.
Where can I find my rental agreement?
Rental Agreement are normal sent to the registered Email address once payment is confirmed for the service required.
When will my quote be emailed to me?
Depending on communcation channel, so if services are obtianed though the website an immediate quote is issued, but if through Customer serivce it takes a bit longer but within 24 hour slot.
Can I chat with an Customer Care Associate?
you will be able to chat with our Customer Service Team during the period from 8:30am until 11pm.
What is my Customer ID?
The Customer ID or Customer Number is assigned once you place an order with Wheekeep. The Customer Identification Number can be found in your Order Summary emails or in your Order Confirmation document. If you can't locate your Customer ID, you can still access your Account with your email address or provide your phone number to a Wheekeep Customer Service Associate for fruther assistance.
Why are my documents still showing as not accepted?
If you just accepted all the documents and are still logged in, you may continue to see a message that you have outstanding documents. The next time you log in, the message should be gone.
How do I see my invoices?
You can log into your account at Wheekeep.com to view all your bills and invoices. If you have a specific question about an invoice, during business hours, you can contact our Customer Service for further associate.
My name is spelled wrong how can I change it?
We can help you correct the spelling of your name by chatting with an associate from our Customer Service Team.
Do you have Real time tracker?
We don't have it at the moment, but such service is currently under implementation and will be released shortly. If you are registered in our system you will be notified once available via your prefered contacting option.
Do you have Geo-fencing
We don't have it at the moment, but such service is currently under implementation and will be released shortly. If you are registered in our system you will be notified once available via your prefered contacting option.
Do you have consolidate billing?
Yes we do have consolidated billing. Simply contact Our customer service team to explain further various points and it shall be sent to you in no time.
What type of merchandise/accessories can I buy?
You can simply refer to our Merchandise section at Wheekeep.com to view all items with visuals to select and order accordingly.
What are the sizes of boxes?
We do offer various packing boxes options depending on customer need, if you demand a special sized box you can contact our customer service team who will make it happened for you.
What type of rapping materials provided?
We have a wide veracity of rapping material depending on the need of it ie. Long storage period, short storage period, moving, etc…
What special type of cartons that can be provided?
We are dealing with various carton manufacturer so be assured that we can simply make any type of carton you desire with various sizes, shapes and specifications.
Can I buy merchandise without acquiring the service?
For sure, all you need to do is access our website wheekeep.com and head to merchandise section where you can place items in your bag and proceed accordingly.
What are the benefits of an on-site storage WheeKeep?
Having an on-site storage WheeKeep can save time, money, safety, and improve operational efficiency. On-site WheeKeeps can also be used for temporary or long-term storage needs, making them a flexible solution. Listed below are the many benefits that an on-site storage unit delivers:
– Secure space to hold metals, tools, and other supplies
– Protection for high-value equipment from weather and theft
– A safe place for personnel on an organized jobsite or yard
– A structure for weather-protected workspace or shed
– Can eliminate travel between suppliers, wholesalers, and home offices
How much does it cost to deliver a shipping WheeKeep?
Wheekeep charge by Truck trip ( can load one 12Ft and one 8ft or 3 8ft per delivery ) with a charge of 199 per roundtrip.
Are WheeKeeps waterproof?
WheeKeeps are designed to be waterproof. It means that it is designed with materials that do not allow water to enter inside the unit.
How secure are shipping WheeKeep doors?
The level of security of the doors generally made to remain secure during handling, outdoor elements, and attempts at theft since they are used to transport goods or for outdoor storage.
What is Autopay?
Your credit card is automatically charged when an invoice is due.
How do I get my account balance?
Simply contact our Customer Service team and they should be able to fetch it our for you immediately and send via email if requested accordingly.
How do I cancel my moving supply order?
In the event you need to cancel your order, you must notify us at 920022475 before 3pm local time prior to delivery day to avoid any charges.
Can I pay the driver directly by Mada or cash?
Yes you can make the payment via Mada on delivery date, POS system is provided with our delivery team. on the other hand, we do not accept cash payment due to compnay regulations and restrictions.
What day is my storage rent due?
Storage rent is due on the day the WheeKeep is delivered and continues from the same date on a monthly billing cycle thereafter until you are finished using the WheeKeep.
How can I make a payment?
Wheekeep accepts all payment methods such as debit card, Visa, MasterCard, American Express and Mada.
How can I set up automatic payment?
We can certainly assist you with that. Please call our Customer Service Team and they will be glad to help you.
Does the credit card have to be in my name or in the same name as the ORDER?
You must be an authorized user of the credit card. We will need to speak to the card holder if it is not your card.
What are the discounts scheme?
Wheekeep offers two discount scheme that applies either via order 4 or more WheeKeeps or via obtaining a yearly service with complete payment.